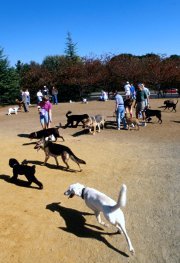 The Fairfax County Park Authority welcomes leashed dogs in all of its parks. In addition, for owners of well-socialized canines who enjoy a good run, a friendly romp, or simply the presence of other dogs and people, the Park Authority operates dog parks or dog runs. These are designated fence-enclosed areas where unleashed dogs can have free play. At present, the Park Authority has eleven established dog parks located throughout Fairfax County.
Volunteer Dog Park Monitors are Park Authority volunteers who assist staff with the operations and maintenance of each dog park. They do so by encouraging awareness of dog park rules and regulations, reporting maintenance needs to the Park Authority, picking up litter and dog waste in order to model proper use and to keep park areas clean; and by promoting a sense of community among those who visit a dog park.
Users of off-leash dog areas do so at their own risk. Neither Fairfax County nor the Fairfax County Park Authority shall be liable for any injury or damage caused by any dog in the off-leash area.
Operating Hours are 7 a.m. to one half-hour after sunset Monday through Friday. On weekends and federal holidays, the hours are 8 a.m. to one half-hour after sunset.
The Park Authority is conducting a dog park study. To participate and learn more, visit Dog Park Study.