Courthouse Parking and Transportation
The Fairfax County Courthouse is located in the City of Fairfax at 4110 Chain Bridge Road. This is just south of the intersection of Route 123 (Chain Bridge Road) and Route 236 (Main Street or Little River Turnpike). You can drive or take public transportation to the Courthouse.
Parking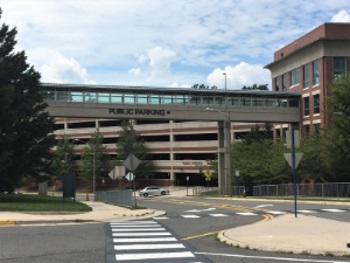 Public parking is available in Garage B located on Page Avenue, between West Street and Judicial Drive.
Cost is $2 .50 per hour (or any portion thereof) up to a maximum of $12.50 per day.
You must pay before returning to your vehicle; there are no cashier booths at the exit gates.

Pay by cash or credit/debit card to the attendant on Level G.
Pay at one of the pay-on-foot stations on Level G or 4th floor of the garage.

Hours of operation: 7 a.m. to 7 p.m., Monday to Friday. Parking is free outside of the hours of operation and on the weekends.
Jurors and county agency visitors with validated parking stubs must still see the attendant before returning to their car to exit.
Accessible parking spaces are provided in a small surface parking lot located in front of the Massey Building, just across from the Courthouse, for those with a DMV permit or plates. Additional permit parking is available in a lot behind the Massey Building and across from Garage A. If these spaces are filled, ask the security officer in front of Garage A where additional spaces are located.
---