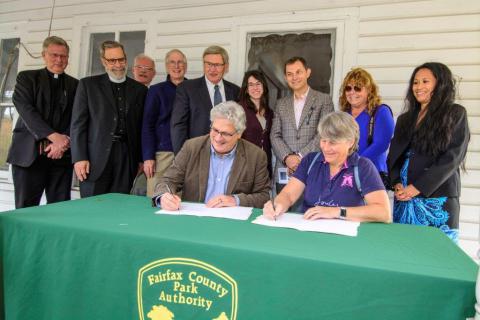 On Thursday, November 1, 2018, Fairfax County's second Resident Curator was officially approved and appropriate leases signed at Turner Farm Park. Members of the Great Falls community turned out for the lease signing ceremony. Sarah Kirk will serve as the Resident Curator of historic Turner Farmhouse in Great Falls, Virginia.
The Resident Curator Program allows for a curator to live in a historic Fairfax County property rent-free in exchange for rehabilitating the house and allowing public access. As required by the state legislation, lease agreements are required between the Park Board and Board of Supervisors, as well as the potential curator. Those approvals set in motion the right to rehabilitate the properties.
Ms. Kirk (acting as principle for the Turner Farmhouse Foundation) will rehabilitate the property. It will serve as a residence for the Kirk family, with its equine farm on the leased property. The lease will also repair the property's milk house, restore and preserve its historic corn crib, and renovate an existing garage to serve as a retreat center.
Pictured signing the lease are Fairfax County Park Authority Executive Director Kirk Kincannaon and Resident Curator Sara Kirk. They are joined by (left to right): Reverend Jerry Pokorsky, St. Catherine of Sienna Catholic Church in Great Falls, Va.; Reverend Hank Langknecht of Christ the King Lutheran Church in Great Falls, Va.; Bill Canis, President, Great Falls Citizens Association; Tim Hackman, Dranesville Rep, Park Authority Board; John Foust, Dranesville Rep, Fairfax County Board of Supervisors; Stephanie Langton, Resident Curator Program Manager, Fairfax County Park Authority; David Buchta, Heritage Conservation Branch Manager, Fairfax County Park Authority; Jo Turner, former resident; and Michelle Meadows, Sr. Right of Way Agent, Fairfax County Park Authority.
Media Note: Click photo to download
See more photos at: https://www.flickr.com/photos/ffxparks/albums/72157699876702872