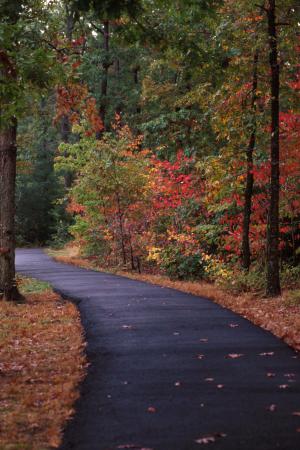 Fairfax County Park Authority is guided by policy to protect the natural and cultural resources found on county parkland by ensuring that all possible steps are taken to prevent any unnecessary, adverse impact to our land, streams, and historic resources. To this end, all applications for easements go through a thorough, separate review process by the Park Authority.
As a separate agency within Fairfax County, with land holdings of over 23,000 acres, the Park Authority has the same rights regarding the granting of easements as any other landholder in the county. Applications for easements are reviewed on a case by case basis and are subject to various fees, charges and monetary assurances to ensure that all work performed in the easement is completed to the satisfaction of the agency. Acceptance of an application for review does not guarantee approval.
OUR AUTHORITY
The granting of easements in the Park Authority has been guided by board policy for many years which reinforce the establishment of review procedures, fee schedules, construction inspection procedures and restoration standards. Park policy and/or restrictive covenants on some lands may make it impossible to approve easement requests.
TYPES OF EASEMENTS
As a major landholder in Fairfax County, the Park Authority is approached for and may grant sanitary sewer, storm drainage, general utility and various other easements related to the development of adjacent properties. We also actively seek out and work with private citizens and organizations to obtain conservation easements on private property as a means to preserve open space, and protect various natural, cultural and historic sites within Fairfax County.
PARKLAND ACCESS
It is often necessary for survey crews to enter upon parkland in the course of preliminary surveys or studies related to off site development. While our parks are open to the general public for recreation purposes, entering parkland for survey work or other non-recreational activities may require specific permission from the agency. Our mechanism for granting permission for this purpose is the Right of Entry License. This instrument serves to protect the agency against liability, provides a method for notification when someone intends to access our property, and provides a means to establish restoration responsibilities in the event that disturbance to the land occurs. It also establishes an expiration date so that open ended access is avoided.
A Right of Entry License may be obtained by contacting the Easement Coordinator at 703-324-8511.
EASEMENT ADMINISTRATION
If you are developing property adjacent to Fairfax County Park Authority land, there are steps that you can take to avoid unexpected project delays. Contact our Planning and Development Division in the early planning phases of your project to discuss options with us. We can provide information in the following areas to assist in expediting the process:
Application forms
A narrative description of the review process.
Site plan inclusion requirements to help us review and process your request.
Restoration requirements
Fee schedules
Deed and plat requirements
Easement Information Links
How to Contact Us
The Planning and Development Division may be contacted Monday - Friday from 8:00 a.m. to 4:30 p.m. We welcome your questions and look forward to assisting you through the easement application and review process. Phone: 703-324-8741
Frequently Asked Questions
What is an easement?
A land right granted by a land owner to another party that allows specific but usually perpetual use of another's real property.
What types of easements can I apply for?
There are many types of easements. Some of the more common are sanitary sewer, storm drainage, utility, site distance, grading and clearing, trail, and conservation.
Why must I apply for an easement from the Park Authority after I have already gone through a review process with Fairfax County?
Fairfax County Park Authority is an agency within Fairfax County with deeded land holdings of over 23,000 acres. As such it has the same rights regarding the granting of easements as any other landowner in the county. The Park Authority has its own review requirements and performance standards that must be met.
What information must I provide in order to obtain an easement?
Initial requirements are the submission of an application form, review fee and a site or project plan, including offsite easement information. As the review progresses, additional information including an easement plat, deed instrument, and restoration plans will be required.
Is there any expense involved in obtaining an easement on parkland?
Yes, there are charges involved. The Park Authority has an established fee schedule which is included in our easement application package.
How long will it take for a decision to be rendered once I have applied for an easement?
Depending on the complexity of the easement and our current caseload, it may take 8-12 weeks to process an easement. This time is used for internal reviews, records searches, site inspections, etc. Much of this review time depends on the applicant providing requested information in a timely manner.
Why was my request for an easement denied even though I have paid a fee?
Acceptance of an application does not guarantee that a request will be approved. There are many factors that influence the Park Authority's decision making process for easements. Issues such as historic and cultural significance, rare natural species, and deed restrictions may be revealed during a review that is not apparent upon initial application. In these instances an easement request may be denied. Payment of the review fee does not guarantee approval and is non-refundable.
Who decides whether or not an easement is granted?
The review process involves a number of Park Authority staff members across several divisions within the agency. The application will be reviewed by land management staff, engineers, naturalists, archaeologists, maintenance managers, site managers and others. After careful consideration and review of all issues and information presented, land management staff will make a recommendation to the Park Authority Board Member in the appropriate district who then evaluates the recommendation and will support or deny the request.
Can I appeal a decision if I am denied?
While there is no official appeals process, staff will always take additional supporting information or revised plans under consideration.
I have questions about my particular situation, who may I speak to directly about easements on Park Authority land?
Please direct you questions to the Fairfax County Park Authority Easement Coordinator, at 703-324-8511.