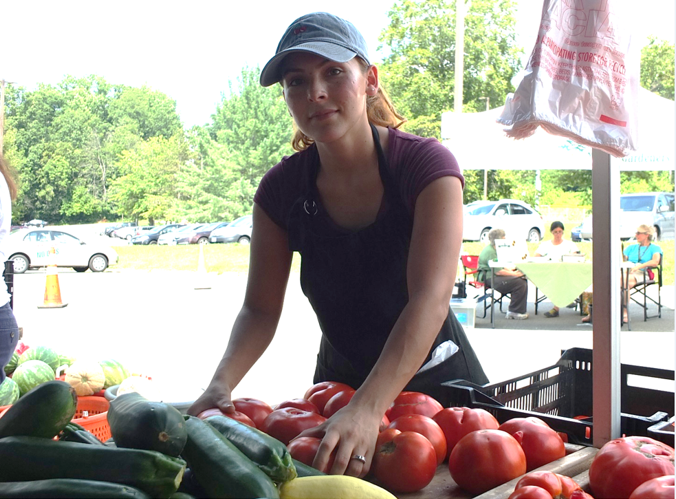 Become a vendor
Our markets are strictly producer-only, meaning you must grow, raise or make from scratch all products you sell.  Distributors, re-selling or brokers are strictly prohibited.  All produce grown, meat raised and other products made must be within 125 mile radius of Fairfax County.
The Fairfax County Farmers Market vendor selection process is competitive, based on each market's individual needs.  Not all vendors that apply will receive a space at FCFMs. Spaces for baked goods vendors and conventional farmers are particularly competitive. This is especially true for our Saturday markets Reston and Burke. We do not allow any mid-season entry or drop ins.
FCFMs only allow the sale of food items, and do not offer space to crafts vendors or other commercial businesses. A community-zone space is available directly outside of our markets for non-profits, political organizations, and community groups to use on a first come, first served basis.
Do you qualify?
In order to qualify to sell at market, your business must be able to confirm all of the following statements.
My business location is within 125 miles of Green Spring Gardens Park, in Alexandria VA
I grow, raise, or make all the products that I sell
I do not sell any hot food
I do not sell olive oil, olives, chocolates, or other non-local products with the exception of locally roasted coffee.
I do not sell crafts
If your business is in accordance with all statements please move on to step 2.
Organic and Certified Naturally Grown (CNG) produce vendors
Dairies, creameries, and artisan cheese
Seafood
Mushrooms
Value added vendors that feature local ingrediants
Produce – Vegetables, fruits, microgreens
Meats – Chicken, turkey, pork, beef, bison, rabbit, sausage, eggs etc
Seafood – finfish, shellfish, & crustaceans harvested from Chesapeake Bay tributaries
Dairy – Milk, cheese, butter, ice cream, etc.
Honey – Bee pollen, beeswax bi-products (candles, body products)
Baked Goods – Loaves of bread, cookies, cupcakes etc.
Herbs – Dried herbs, teas
Coffee – hot/cold beverage, or by the bag using  locally roasted beans.
Plants – Vegetable starters, potted/cut herbs, potted/cut flowers.
Value Added Products – Any product which is processed from its original form. Ex: soups, fermented products, jams, etc.
Hot food sold to eat on site – food trucks, BBQ, etc
Olive Oil – even if locally pressed
Body products – except those that are a direct byproduct of a farming operation. Ex: honey vendor makes beeswax chap stick with leftover wax.
Crafts – except those that are a direct byproduct of a farming operation. Ex: Bison vendor sells hide bracelets & wallets
Attend Our Prospective Vendor Meeting
The 2019 Prospective Vendor Meeting will be held on Jan. 23rd. Please fill out the form below to receive the meeting invite. At this meeting we will discuss the rules and regulations and program updates.
Application Process Timeline
MID-DECEMBER – Send out email invitation to our 2019 Vender Interest Meeting
MID-JANUARY - Vendor Interest Meeting held & Applications open on Managemymarket.com
MID-FEBRUARY - Applications close
MARCH – Vendor Selection
APRIL – Paperwork and payments due
MAY – Markets begin
If you wish to receive an invitation to the January 2019 Vendors' Meeting, please submit the following information (BOLD items required):
Apply
Our application process is done entirely online through our farmers market management system. There are three parts to the application process:
Review the Rules and Regulations. When you submit your application you will be required to sign a legal agreement that states you have read and understand these rules and will adhere to them throughout the market season.
Create your online profile through ManageMyMarket 
Apply in the farmers market management system during application enrollment. January 25 - February 8th, 2019
Complete Profile