Healthy Students = Academic Success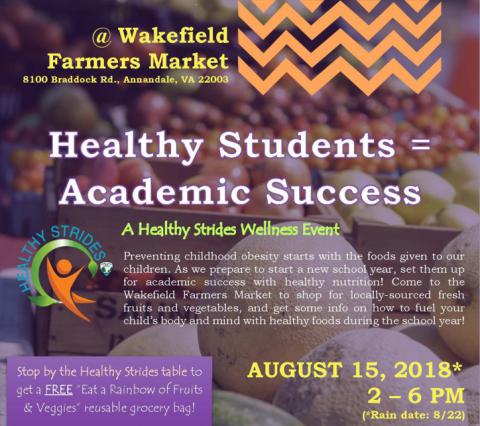 As we prepare to start a new school year, set your children up for academic success with healthy nutrition!
Come to the Wakefield Farmers Market on August 15 from 2-6pm to shop for locally-sourced fresh fruits and vegetables, and get some info on how to fuel your child's body and mind with healthy foods during the school year!

Wednesdays, April 18 - October 31, 2018; 2 to 6 p.m.
Master Gardener Plant Clinic on site to answer questions about plants in your landscape

Please note that for health and safety reasons, our markets are not able to accommodate pets, except service animals. Please consider leaving pets at home as the temperature on market days can increase rapidly and cause pet safety issues.
Vendor List
8100 Braddock Road
Annandale, VA, 22003