Click the links below to download requirements and pre-work information for merit badges offered at this site: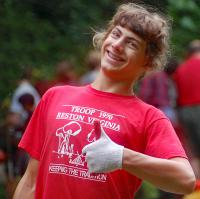 Hidden Pond Nature Center offers scout programs for Boy Scouts, Girl Scouts, and American Heritage Girls. 
Reservations are required. Use the Availability Calendar to request a reservation.
Request programs from the list below.
Call the park office to schedule a visit. 703-451-9588
For any issues or questions about the availability calendar, please contact Michelle Alexander at michelle.alexander@fairfaxcounty.gov
Hidden Pond Scout Program Information
Fees:
$5 per scout for one hour
$8 per scout for 1.5 hours
$10 per scout for two hours
There is a minimum charge for 12 scouts.
Request a campfire for an additional $20 for the 12-scout minimum plus $2 more for each additional scout.
Campfires are offered April 1-October 31.
To request a program date, call the park or use the online Availability Calendar link at the top of the page.
Please note that we may be unable to accommodate requests made less than two weeks prior to the program date.
Boy Scout Programs Available
Tigers
 Elective Adventure - Sky Is the Limit
 Adventures - Tigers in the Wild, Backyard Jungle
Wolves
 Elective Adventure - Digging in the Past
Bears
 Adventure - Fur, Feathers, and Ferns
 Elective Adventures - A Bear Goes Fishing, Beat of the Drum
Webelos/AOL
 Elective Adventures - Adventures in Science, Castaway, Earth Rocks!, Into the Wild, Into the Woods
Merit badges
 Forestry, Geology, Insect Study, Reptile & Amphibian
Girl Scout Programs Available
Daisies
  Petals - Clover Petal (Using Resources Wisely), Rose Petal (Making the World a Better Place)
  Journeys - Welcome to the Daisy Flower Garden (It's Your World-Change It!), 5 Flowers, 4 Stories,
     3 Cheers for Animals (It's Your Story-Tell It!), Between Earth and Sky (It's Your Planet-Love It!)
Brownies
  Badges - Naturalist Legacy Badge: Bugs, Hiker, Senses, Home scientist, Outdoor adventurer
  Journeys - Wonders of Water (It's Your Planet-Love It!)
Juniors
  Badges - Gardener, Naturalist Legacy Badge: Flowers, Animal Habitats
  Journeys - Get Moving (It's Your Planet-Love It!)
Cadettes
  Badges - Animal Helpers, Naturalist Legacy Badge: Trees, Night Owl, Archery
  Journeys - Breathe (It's Your Planet-Love It!)
Seniors
  Badges - Adventurer, Voice for Animals, Sky
Ambassador
  Badges - Water
American Heritage Girl Programs Available
  Zoology
  Nature & Wildlife
  Native American
  Fire Safety and Fire Building
  Gardening & Plant Science
  Geology
  Insect-a Inspect-a