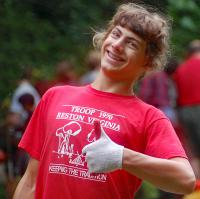 Hidden Pond Nature Center offers programs for Boy Scouts, Girl Scouts, and American Heritage Girls. 
Reservations are required. Use the Availability Calendar to request a reservation.
Request programs from the list below.
Call the park office to schedule. 703-451-9588
For any issues or questions about the availability calendar, please contact Michelle Alexander at michelle.alexander@fairfaxcounty.gov
Base Price for Scout Programs
(Does not apply to merit badges)
The base price for scout programs is $3 per person for each half-hour of a program.
There may be additional fees for supplies or tours.
1  hour  =  $6 / person
1.5 hours = $9 / person
2  hours  =  $12 / person
There is a 12-person minimum fee for scout programs at Hidden Pond. A group smaller than 12 scouts will be charged the 12-person minimum.
Merit badge fees are listed on each badge's registration page.
Click the links below to download requirements and pre-work information for merit badges offered at Hidden Pond.
American Heritage Girl Programs Available
  Zoology
  Nature & Wildlife
  Native American
  Fire Safety and Fire Building
  Gardening & Plant Science
  Geology
  Insect-a Inspect-a