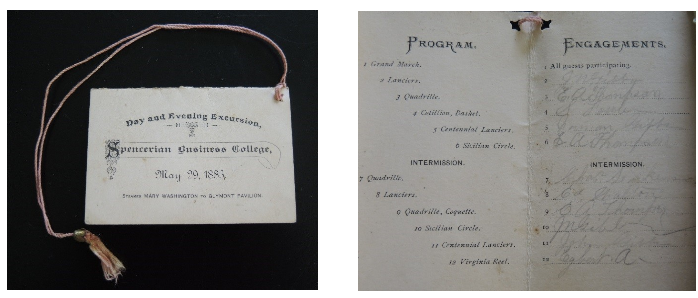 This is an 1883 dance card that belonged to Margaret Norwood Harrison Gibbs.
Margaret lived at Historic Huntley, a Federal Period villa built for Thomas Francis Mason, a grandson of American patriot George Mason. Thomas was mayor of Alexandria, Virginia, from 1827 to 1830. Historic Huntley, built in 1825, was a summer home for his family. In 1868, it was purchased by Albert W. Harrison and Nathan W. Pierson. The Harrison family lived in the house for years, making a lasting impression on the building's history. Margaret Norwood Harrison Gibbs was Albert's daughter.
Born in New Jersey in January 1862 to Albert and Angeline C. Harrison, Margaret spent much of her early life at Historic Huntley. A relative donated a collection of Margaret's belongings to the Fairfax County Park Authority, including this Day and Evening Excursion pass that is a dance card.
The outside of the card would indicate details about the coming event's date and location along with the sponsoring organization, in this case the Spencerian Business College. For this event, which took place on May 29, 1883, participants would board the Steamer Mary Washington and take it to the Glymont Pavilion, where the dance would be held. This type of jaunt on the Potomac River was a popular pastime in late spring and summer. Organizations such as schools and churches would sponsor these types of events for their members by engaging one of the many vessels available and taking it to a pavilion like Glymont, where picnicking, bathing, fishing, or dancing would take place.
Dance cards listed the program of dances that would be conducted throughout the event and included spaces to fill in the name of the lady's dance partner. The card would likely have a ribbon attached, which allowed a woman to wear the card on her wrist or fasten it to her gown so she could reference it throughout the evening and keep it out of the way while dancing. The dances performed to be scheduled are typical of the time period -- Lanciers, Quadrilles and, of course, the Virginia Reel as the finale. One of the dance partners included on 21-year-old Margaret's card is her future husband, Joseph Norman Gibbs. They married at Historic Huntley almost three years to the day later, on May 27, 1886.