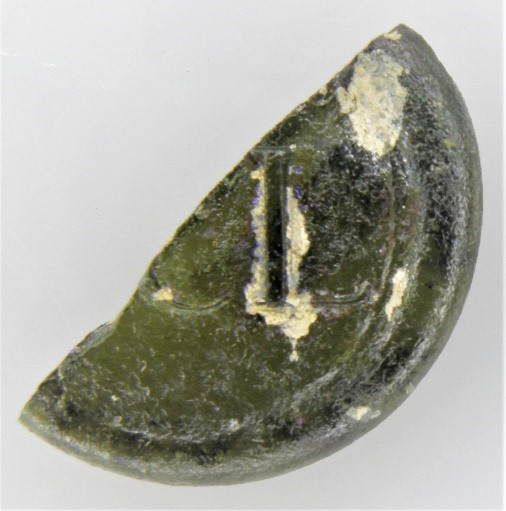 An ancient glass bottle seal, one of three million artifacts curated by the Fairfax County Park Authority helps to tell the story of a visit to Newgate Tavern.  Looking back to the late 1700's a traveler's encounter might include a night at the local tavern and the rest is history as they say.
 A glass of locally distilled peach brandy greets you once you reach Newgate Tavern on a cold night in January 1787. Tavern operator Charles Eskeridge welcomes you on behalf of Presley Carr Lane, the tavern's owner. Eskeridge pours your brandy from a bottle stamped with the letters "CL." You lodge at the tavern and stable your horse for the night. You rest assured knowing that by law you will pay fixed prices for your peach brandy (6 shillings per gallon), stabling and feeding your horse (1 shilling), and "Lodging with Clean Sheets one Night" (6 pence). Three months earlier, the Loudoun County Court had set costs for products and services, ordering "...that the Several Ordinary keepers in this County do Sell according to the above rates… and that they do not presume to Demand Ask, or receive more from any person whatsoever." (Loudoun Court Order Book I2:343-344. Western Fairfax County was part of Loudoun County between 1757 and 1798).
In 1761, William Carr Lane acquired land along the Mountain Road that connected Warrenton and Winchester to Alexandria. By 1769 he had built Newgate Tavern and its outbuildings. The small village called Newgate grew around the tavern. Newgate attracted laborers and craftsmen who established businesses to serve the area's increasing population and travelers passing through the village. William Carr Lane died in 1771, leaving his property to his minor son Presley Carr Lane. William Carr Lane's friend, Simon Tripplet, obtained a license to operate Lane's Newgate Tavern and served as Presley's guardian. Charles Eskeridge managed the tavern from 1773 into the 1790s.
In 1792, an act of the Virginia General Assembly established the town of Centreville from the Newgate community. Newgate Tavern stood on the town's main road – now called Braddock Road. The tavern prospered under different owners, often competing with other such establishments in town. During the early 19th century, new roads and rail lines bypassed Centreville. However, Newgate Tavern remained in business, serving soldiers and travelers throughout the Civil War. Around 1894 the tavern closed. Robert Utterback sold the property to speculators in 1926, by which time improved roads and tourism had revived Centreville. In 1936, the dilapidated tavern structures were demolished.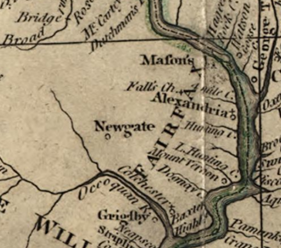 Archaeologists excavated the Newgate Tavern site in 2001 and 2007. The artifact collection documents decades of activities that occurred there. Among the glass vessels, such as bottles and tableware, were two bottle seal fragments. A seal would have been stamped into a glob of hot glass placed on the bottle's shoulder to mark the product or bottle's owner. This seal displays "CL." It is likely that "CL" are the initials of either William Carr Lane or Presley Carr Lane. The Lane family owned a distillery and likely stamped their seal onto the bottles they filled with their craft beverages for sale at Newgate Tavern.  
Historical signs now mark the former tavern's location. This bottle seal and thousands of other artifacts from the site are preserved within Fairfax County's Archaeology and Collections Branch.