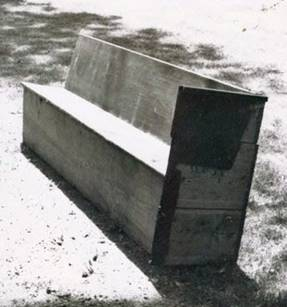 The historic Meeting House at Frying Pan Farm Park is swaddled in history, and its individual parts tell stories. In 1783, members of the Bull Run and Little River Baptist Churches were granted two acres of land on which to erect a meeting house. In 1791, a church covenant was recorded into the church minute book.
The site witnessed encampments and skirmishes during the Civil War, and there are references to wounded soldiers being treated there after the Battle of Dranesville. In 1984, Arthur L. Carter, the last remaining trustee, deeded the building to the Fairfax County Park Authority, and it was added to the National Register of Historic Places in 1991.
From the church's beginning, both free and enslaved African Americans were welcome to join the congregation, but galleries provided racial separation. African-American congregants reached balconies by a steep flight of stairs.
Five types of pews were documented when a Historic Structures Report was conducted in 2004. The pew pictured here comes from the two earliest styles, which are box type with cut nails that were likely constructed prior to the building's 1796 expansion. Repair and remodeling followed the Civil War, probably due to wartime damage, and box pews that hadn't been broken or used for shelter or fuel were rehabilitated. Construction shows a wide range of ability and confirms the pews were made specifically for the building. Some were cut to accommodate elements like columns.
In 2010, three types of pews stored in the upstairs gallery were removed and placed into collections storage as the gallery was considered unstable. Two later types of pews remain on the main floor and demonstrate the change over time in pew construction and design.
The Frying Pan Meeting House is usually closed, but it opens for public tours once a year each spring. Scout badge programs also take place at the Meeting House throughout the year.