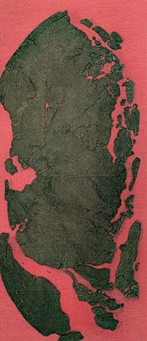 Textiles are rarely recovered at local archaeological sites because the soils in Fairfax County are acidic, and most textiles disintegrate long before archaeologists can reach them. More often, archaeologists find metal buttons and hooks that once functioned on a cloth garment such as a coat or gown. However, sometimes cloth survives in unexpected places. Archaeologists found this felt object while excavating a 19th century tanning vat in Centreville. Conservation and scientific analysis yielded some fascinating details about the cloth.
Around 1804, Daniel Harrington opened a tanyard in Centreville. It contained several structures as well as large wooden tanning vats built in clay-lined pits. The tanyard closed some time before the summer of 1861, when thousands of Confederate soldiers occupied and constructed a complex system of fortifications around the village. After the Confederate Army left Centreville in March 1862, Union forces moved in. In the early 1990s, Fairfax County archaeologists found hundreds of artifacts while excavating one of the tanning vats. Their finds suggest that Union soldiers dumped their rubbish into the vat and then covered the pit with rubble.
Archaeologists recovered a felt object that they described as a hat. The felt was thick, double-seamed on a rounded edge, and cut on one edge. It was wet, covered in soil, deformed, and in pieces. They sent the object to the Virginia Department of Historic Resources Conservation Laboratory in Richmond for analysis and treatment. There, conservators gently brushed the fabric under water and let it slowly dry. They integrated the small, thin pieces into the larger section and brushed the top surface to raise the knap and remove loose residual soil. Finally, they mounted the preserved felt and returned it to Fairfax County.
The conservators determined that the fabric is the yoke of a coat, possibly a uniform coat. While they treated the fabric, Doug Owsley of the Smithsonian's National Museum of Natural History analyzed a sample of the vat clay that was extracted near the yoke. The clay contained wool and lanolin waxes from land animals, such as sheep.
We'll never know why this coat yoke ended up in the abandoned tanning vat, but the yoke is now preserved along with thousands of other artifacts from Fairfax County archaeological sites.