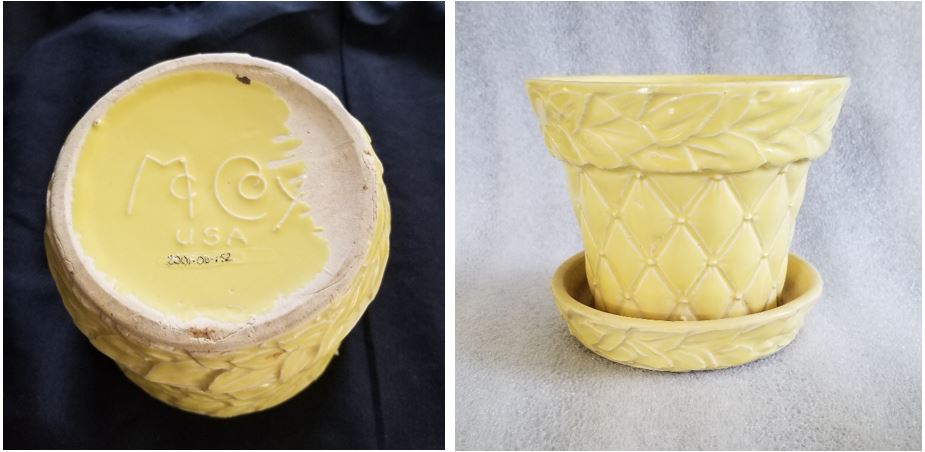 Dig into the past with a look at a flowerpot that is part of the Fairfax County Park Authority's historical collections. This lovely little piece of pottery is a yellow McCoy flowerpot. The body has a quilted or diamond pattern and the base and rim are trimmed with leaves.
PMcCoy pottery is highly collectible. The company was founded in Roseville, Ohio, in 1910 near a good source of local clay and began as the Nelson McCoy Sanitary and Stoneware Company. It produced utilitarian stoneware items until 1933, when it changed directions and responded to consumer interest by manufacturing more decorative wares.
By 1934, decorative pottery was quickly becoming its main product. McCoy became known for both its vibrant and colorful glazes, in every shade of the rainbow, and its quirky and unique forms and shapes. Having so many options in form and color made it easy to find a piece to match any décor. That, coupled with the durability of stoneware, is likely why these pieces continue to remain fashionable even decades after they were produced.
Some of the most sought-after McCoy items include cookie jars, umbrella stands, teapots and bookends. Animal shapes, such as alligators, elephants, ducks, puppies, frogs, turtles and birds, also were available. Flowerpots and planters are among the highly desirable pieces, too. They continue to be popular with collectors today as most are in good enough shape to be used for their original purpose.
The maker's mark on the bottom of this planter places it sometime in the 1940s to the 1960s. The company was sold in 1967 and changed hands several times until it officially closed in 1990, though a McCoy family member remained president until 1981. Because of the collectible nature of these items and the fact that there were no maker's marks placed on pieces throughout the early years of the company, there are lots of fakes and look-alike products available on the market. However, the history of the company and its products are well documented and easily accessible.
This flowerpot comes from the Park Authority's Lahey Collection. In 1940, Richard Lahey, the once principal emeritus of the Corcoran School of Art and a well-respected artist and teacher, and his wife, Carlotta Gonzales Lahey, a painter, sculptor and teacher, bought 45 acres of land in Vienna. Richard and Carlotta were important members of their community who truly loved art and Fairfax County. Throughout their lives, they collected interesting historic furniture, folk art and antiques. Carlotta bequeathed 22 acres of land, their house, and its contents to the Park Authority in memory of Richard. Their beautiful home is now part of the Park Authority's Resident Curator Program.