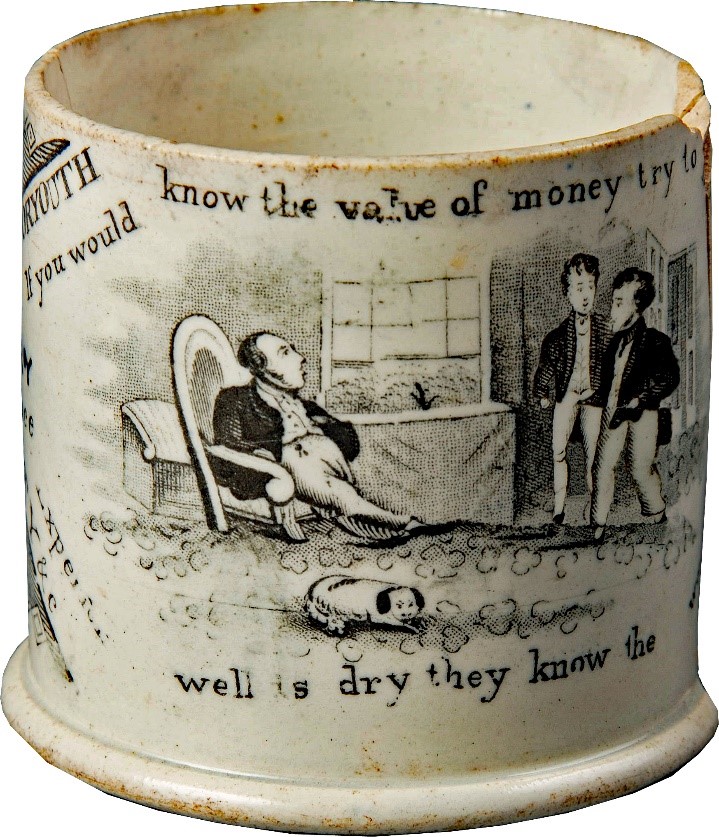 In 2020, millions of children started taking classes online when schools closed due to the COVID-19 pandemic, but learning lessons at home is not a new phenomenon. If you were a child living in the 1820s, you have might learned a bit about morality as you sipped your cider from a mug like the one shown here.
Potters in Staffordshire, England produced this type of mug between 1800 and 1830. These pieces were made for children as a tool for moral and educational instruction. They featured thematic images and Benjamin Franklin maxims aimed at teaching children lessons on industry, temperance, frugality and prudence. 
Franklin's sayings, "If you would know the value of money borrow some" and "When the well is dry know the worth of water" were transfer printed onto this pearlware mug. These and other maxims were first published in Franklin's Poor Richard's Almanack for the year 1746, and his sayings were frequently used without regard to copyright laws. Images that accompanied the sayings often featured comical characters and were designed to emphasize the maxims. In the image on this mug, two open-handed boys approach a seated, prosperous gentleman while a dog lazes on the rug.
Several of the mug's attributes enabled archaeologists to determine when it was manufactured. The mug is made of a white refined earthenware known as "pearlware." Pearlware has a clear glaze that looks light blue where it pools around handles or on bases. Pearlware may date from the early 1770s and was produced until ca. 1830. The design is transfer printed, meaning that it was first copied onto tissue paper from an inked copper plate, then transferred to the mug's surface before firing. The style of the man's and boys' clothing is another dating tool. The figures wear frock coats, short fully-buttoned waistcoats, and full-length trousers – all quite fashionable in the 1820s.
Fairfax County archaeologists excavated this mug from a 19th-century trash pit. This mug, along with hundreds of other artifacts recovered there, are objects that everyday people owned, used and discarded 200 years ago.