By Heather Hembrey, M.A., M.A.A.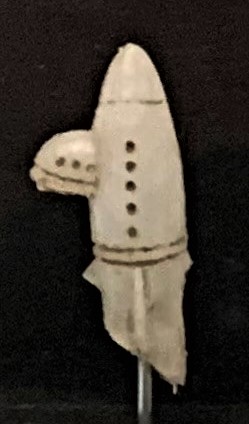 Archaeologists recovered this toy rocket at a site in Fairfax County. The rocket is plastic, stands about one inch high, and was likely made between 1940 and 1960. This little artifact tells a big story when placed in the context of that time.
1930s comic strip outer-space adventurers such as Flash Gordon spurred the craze for space toys. Spaceman figures, robots, rockets, and Laser guns were easily available by 1940. The Buck Rogers Space Ranger Kit featured space hats, space monsters, and toy rockets much like our little rocket. The Kit was made in 1952, five years before Russia launched Sputnik, the first man-made object to be placed in the earth's orbit in 1957. The Space Race had begun.
Buck Rogers Space Ranger Kit box,1952. Private Collection.
In July 1969, the world saw astronauts Michael Collins, Neil Armstrong, and Buzz Aldrin become the first humans to land a module on the moon. The July 19 Northern Virginia Sun newspaper notified Fairfax County residents that they could tune into local TV station WMAL for continuing coverage of Apollo 11's progress. "Moon-circler" Frank Borman and science writer Rod Serling commented, while Steve Allen and Duke Ellington sang "old and new moon songs". On July 21, all could watch Apollo 11 beam live color TV earthward as Neil Armstrong stepped onto the moon's surface. U.S. Sgt. Robert E. Puttbach of Springfield, Fairfax County served on the Air Force Communications Service special task force supporting the Apollo 11 lunar landing mission.
This simple rocket predates Apollo 11 and today's more sophisticated space toys. Its original owner may have dreamed of traveling into outer space before she, he, or they lost it in the dirt.