The straight pin has been used universally for centuries, and although its function has remained relatively the same, the process of making pins has progressed and streamlined. The straight pin is known mainly for its role in sewing as a small, thin piece of metal used to temporarily hold two pieces of fabric together. Pins have been made from metal, bone, and even wood.
Because pins are so small, they often are missed with standard artifact recovery methods. The vast majority of those found from sites excavated by Fairfax County Park Authority archaeologists are recovered from soils that have been processed using water through fine mesh. This recovery method requires much effort, including hours upon hours of sorting through the water processed material. Fortunately, the Park Authority benefits from the dedication of an amazing group of volunteers.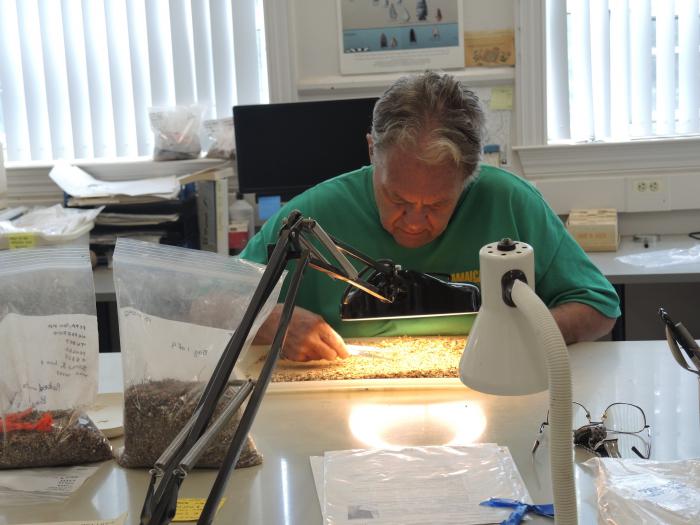 Archaeology and Collections Branch Volunteer Picking through Water Processed Material.
Though such a simple tool, making metal straight pins by hand can be a very complicated affair, often with up to 18 steps to produce each pin. To create the head of the pin, a small piece of wire would be coiled around the body and moved into place. This technique would produce inconsistent sizes and textures, and that led to the practice of stamping a flat or ball shape on the end of the same piece of wire as the body of the pin. By the middle 1800s, straight pins could be mass produced, which made them common and affordable.
Straight pins can be very useful to archaeologists. Their presence can be an indicator of a domestic or residential area. Although the artifact is not considered gender specific, along with other artifacts it can suggest a female presence on a site. The quality and size of the pin can help narrow the time period of an archaeological site and give a more complete picture of those who lived there.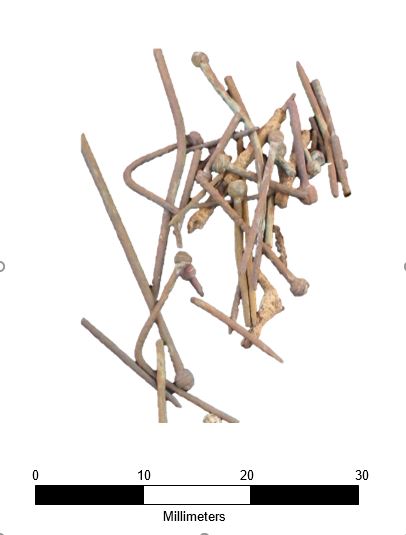 Variations of straight pins recovered in Fairfax County
For more information about artifacts and current excavations around Fairfax County check out https://cartarchaeology.wordpress.com