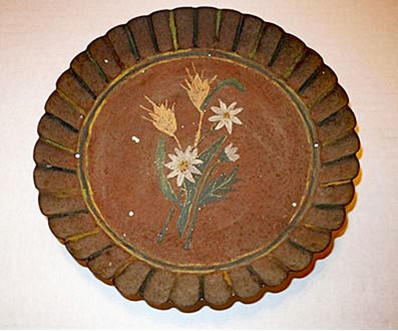 This toleware pie pan with fluted edges is decorated with white flowers, green leaves and yellow wheat. Yellow and green lines were painted on the raised edges inside the pan, and small flecks of gold paint surround the center image. Toleware refers to objects made of tin that have been lacquered and adorned with a picture or design and comes from the French phrase "tôle peinte," which means "painted sheet metal."
This technique developed in the 18th century and spread across Europe and America. Sheets of iron or steel were dipped in molten tin or pewter to form a foundation that could be decorated with paint or varnish. The technique is said to have been developed to keep utilitarian household products from rusting. In America, toleware was initially imported from England and France because of a law that prevented tin from being produced in the colonies, but eventually tin craftsman in America, known as "whitesmiths," secured a reliable source for tin and began creating their own pieces. Areas in Maine, Connecticut and Pennsylvania Dutch country became known for the craft.
These pieces of painted metal are usually associated with folk arts and crafts but can feature refined and intricately painted designs. Though the Revolutionary War created a gap in production, toleware continued to flourish until the end of the 19th century and even saw a brief resurgence in America in the 1950s.
The Park Authority's toleware pieces come from our Lahey Collection. In 1940, Richard Lahey, the once principal emeritus of the Corcoran School of Art and a well-respected artist and teacher, and his wife, Carlotta Gonzales Lahey, a painter, sculptor and teacher, bought 45 acres of land in Vienna. Richard and Carlotta were important members of their community who truly loved art and Fairfax County. Throughout their lives, they collected interesting historic furniture, folk art and antiques. Carlotta bequeathed 22 acres of land, their house, and its contents to the Fairfax County Park Authority in memory of Richard. Their beautiful home is now part of the Fairfax County Park Authority's Resident Curator Program.