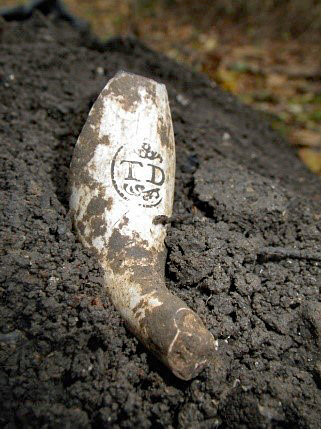 Archaeologists working at colonial sites in the Mid-Atlantic frequently encounter white clay tobacco pipe fragments and learn a lot from them. Made of white ball clay, this particular pipe bowl carries a design with the letters "TD" imprinted on the side facing the smoker.
Pipes with this mark were manufactured in England and imported to North America. Scholars attribute the design as part of a makers mark, but do not always agree to whom the TD initials refer. Many make a case that the "TD" stands for Thomas Dormer, which would provide a narrow date of manufacture from the mid-1750s until about 1780. The Fairfax County site where this one was unearthed corresponds with those dates.
The bore of the tobacco pipe also can indicate when it was made, with larger bores found on older pipes. While most experts agree with the mid-1750s as the earliest date of manufacture, some have found possible evidence that indicate variations of the TD stamp were used until the early 20th century.