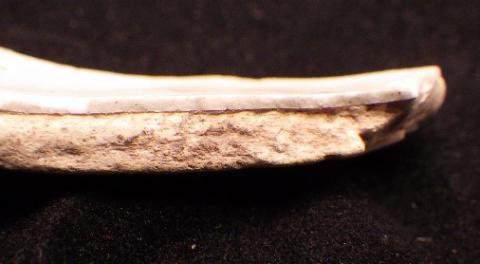 Tin-glazed earthenware, as the name suggests, is a ceramic that contains tin oxide in the glaze. It has a very soft, buff-to-reddish colored paste (the body of the ceramic). The tin oxide creates an "M&M-like" shell over the paste when viewed in cross section, and it easily chips off. The glaze color is most often either white or blue and is commonly found with a hand-painted or sponged decoration in various colors. Production of tin-glazed coarse earthenware began in Europe in the 16th century and continued until the early 19th century. The ware was produced all over Western Europe and has a variety of names depending on the country of origin. For example, the term "Delftware" is used for Dutch tin-glazed, "Faience" for French, and "Majolica" for Spanish.
English or Dutch tin-glazed usually has a lighter, buff-colored paste. Spanish and French tin-glazed often has a reddish paste. In the Middle Atlantic, tin-glazed earthenware is common to colonial period sites and is usually assumed to be either Dutch or English. Dutch tin glaze was more common earlier in the colonial period, and English varieties more common in the later colonial period, particularly from the 18th century onward.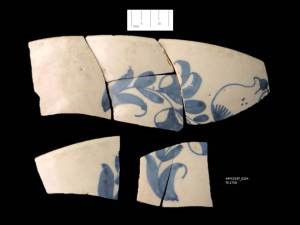 The decorations found on tin-glazed earthenware are often diagnostic and therefore a great way to help archaeologists determine the time period of a site. Hand-painted decorations can be diagnostic depending on the motif or the design, and sponged decoration has been useful in narrowing the more broad production range of the coarse earthenware.
The Park Authority has samples that were found in an excavation at the town of Colchester. "They were recovered from an intact, ashy refuse deposit dating to the late 18th century," said Park Authority archaeologist Chris Sperling.
For more information about artifacts and current excavations around Fairfax County, see https://cartarchaeology.wordpress.com/