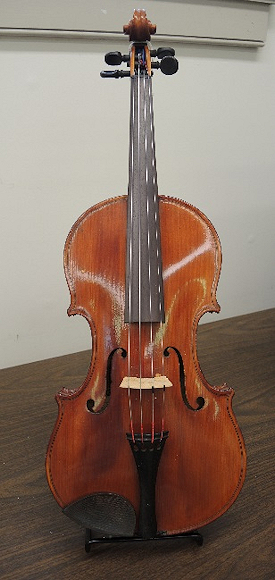 In 2010, the granddaughter of one of Colvin Run's early 20th century millers donated her Aunt Louise's violin to the Fairfax County Park Authority (FCPA). Louise Millard was born in 1906 and taught at Franklin Sherman Elementary School and McLean High School. The violin is a reminder that, despite her family's familiarity with hard work, they also took time to relax, play, listen to music and enjoy each other's company.
The violin is made of maple and spruce, and the bow stick is made of Pernambuco, a Brazilian wood considered ideal for bow-making. The bow frog, the end of the bow that encases the mechanism responsible for tightening and holding the bow hair ribbon, is made of ebony, nickel and mother of pearl. The hair of the bow is horsehair, a material typical for bow construction. The violin and bow are housed in a black leather case lined with purple velvet. According to the label inside the violin, it was made by J.A. Baader of Mittenwald, Germany, a name synonymous with quality violin-making since 1770.
So how could a person in the U.S. buy a German-made violin in the early 1900s? Aside from local music shops, there were businesses like The Rudolph Wurlitzer Company that imported stringed, woodwind, and brass instruments from Germany for sale through retail stores, catalogs and ads. One of their ads in the February 1915 Popular Mechanics Magazine markets a Baader violin for only 10 cents a day. Moderate to high-priced Baader violins sold for $50 to $250.
Under the care of the FCPA, the violin has been fitted with a new bridge and post. While the violin has its original tailpiece, which anchors the ends of the strings, it was given a new tail gut, which attaches the tailpiece to the end of the violin. The violin has been restrung with new strings, the bow repaired, and the violin and case cleaned and polished. All other parts, including the pegs, are original. Any original pieces that were replaced were set aside and returned to collections storage.