Self-guided tours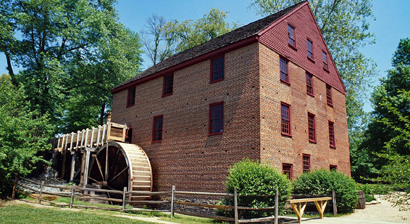 Colvin Run Mill is a beautiful park for a quiet walk through history.
Download the self-guided tour brochure, and start your exploration at the park's main parking lot. Follow the path through the arching trellis and on to the General Store and barn. The tour takes you past the blacksmith forge, the miller's house, the millrace, millstones, and on to the mill and its waterwheel. 
Additional Park Highlights
Colvin Run Mill hosts occasional events throughout the year, such as maple syrup boil-downs, Halloween costume programs, and annual Santa visits. The site hosts scout, school and educational public programs, teas, camps and workshops. There are blacksmithing and woodcarving demonstrations on days that the mill is grinding grain.  Exhibits in the barn include a re-creation of an early 20th century kitchen, a strikingly detailed model of the mill, a functional model of the mill's gears, and an educational display about the world's grains. There are open areas for picnicking and quiet walks. A hiking trail connects to the Cross County Trail, and the park's beauty is at its pinnacle when the azalea bloom in spring.
Colvin Run Mill offers a variety of volunteer opportunities. Often these include gardener, storekeeper, touring and teaching docents.