School Field Trip Pricing
Preschool Students: $8 in Fairfax County / $9 Out-of-county schools
Preschools - All adults are FREE
Elementary Students and Chaperones: $8 in Fairfax County / $9 Out-of-county schools
Elementary School - Teachers are FREE
Payment is due upon arrival. Payment options are cash, check (payable to FCPA/Colvin Run Mill), Visa or MasterCard.
Maximum Daily Capacity
Preschool program: 30 students
Elementary programs: 3 classes / 90 students
ELEMENTARY SCHOOL FIELD TRIPS
Elementary school field trips are offered Monday through Friday at 10 a.m. and last about two hours. No more than three classes (classrooms) per day, comprised of a maximum of 90 students can be accommodated due to space and safety concerns. Each class will stay together and rotate among three learning centers - please do not divide classes without first consulting with site staff. Schools should bring at least three adult chaperones, but no more than 5 adult chaperones per class to assist with hands-on learning centers. Additional "drop-in" parents may not be able to participate with their children, and are therefore discouraged. Schools with more than 4 classrooms, or those with inclusion classrooms should call the site to discuss your options before making a reservation. Home school groups or programs may be required to meet a minimum number of participants to reserve programs. Please call 703-759-2771 with questions or concerns. Comfortable shoes and clothing appropriate for the weather are necessary. There is walking outdoors among buildings, and the mill is not heated.
Students tour three learning centers and learn how local 19th century producers and consumers — the farmer, miller and storekeeper — used natural, human and capital resources to their advantage. Download Flyer.
During the visit, classes tour three buildings — the mill, the barn and the general store. Students learn about the site's rich engineering, commercial and social history. The program closely follows the Virginia Standards of Learning for Force, Motion and Energy. It provides opportunity for students to see and use simple machines.
Pre-school field trips for ages three to six are offered Monday through Thursday at 10 a.m. and last about one hour. Comfortable shoes and clothing appropriate for the weather are necessary. There is walking outdoors among buildings, and the mill is not heated.

The pre-school program has two parts:
During a docent-led mill tour, the children meet five puppets: Marvin the Miller, Alvin the Apprentice, farmers Fred and Matilda and their horse Charlie. Children learn how the miller and farmers worked together to produce flour and cornmeal.
In the general store, a docent reads "Pancakes, Pancakes" by Eric Carle. Children will also participate in an interactive Then and Now activity.
For questions or comments about the school program, payments, the Learning Kit materials or any other aspect of a field trip, please call the site office any day between 8:30 a.m. and 5 p.m. at 703-759-2771 or email fcpa-colvinfieldtrips@fairfaxcounty.gov.
Lunch Facilities
If your schedule permits and you want to bring lunch, there are indoor and outdoor spaces available. In nice weather, we recommend the picnic area adjacent to the parking lot. In poor weather, the group can sit on the floor and eat in the historic barn.
Students should not bring snacks. There is no time to eat during the presentation.
Souvenir Field Trip Bags
Souvenir field trip bags are $1.50 each.
They include:
   A Colvin Run Mill postcard
   A souvenir pencil
   Two candy sticks
   A Simple Machines bookmark
Call at least one week prior to your scheduled visit to ensure bags will be ready for pickup.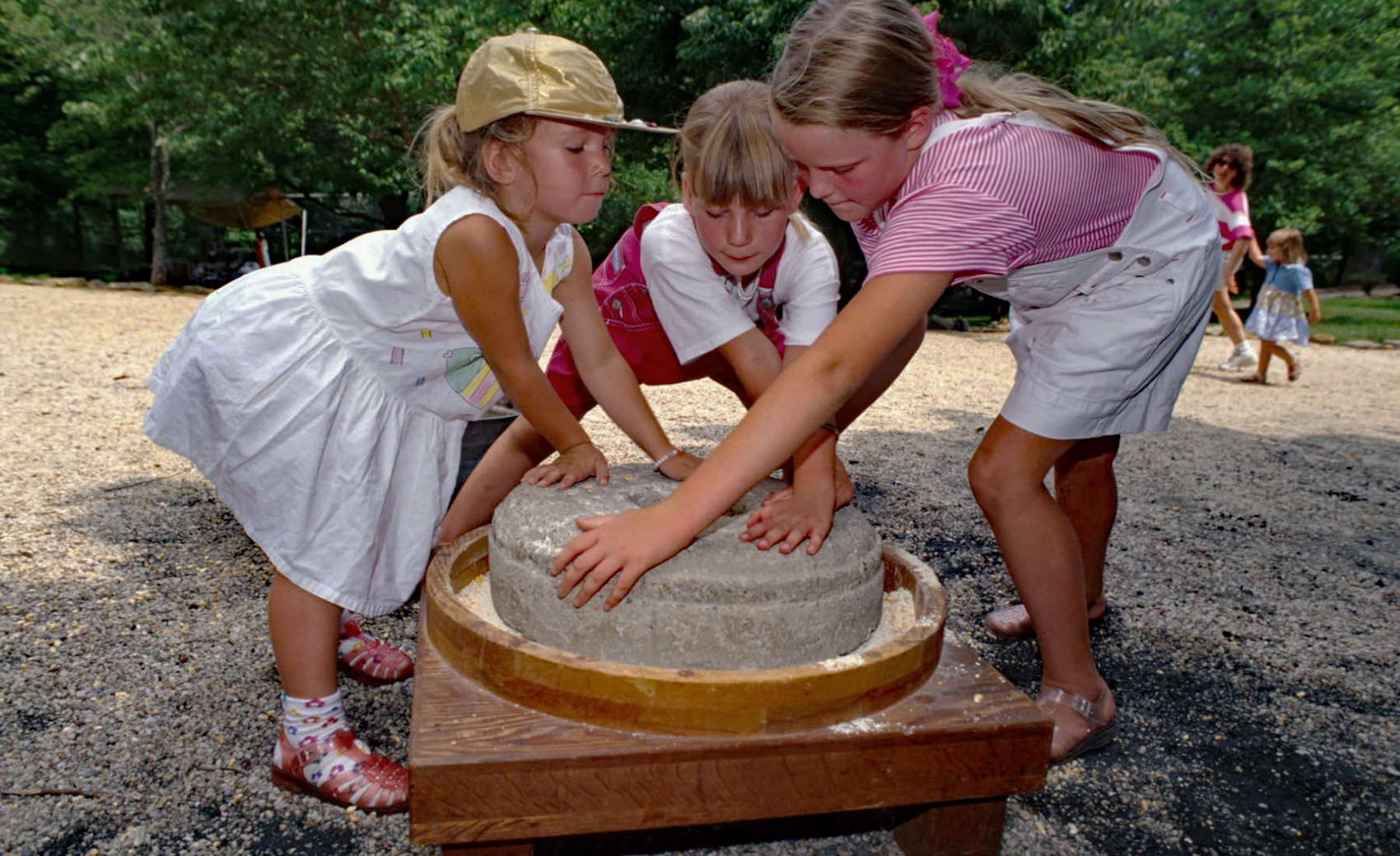 10017 Colvin Run Road
Great Falls, VA, 22066
There is ample free parking for school buses.