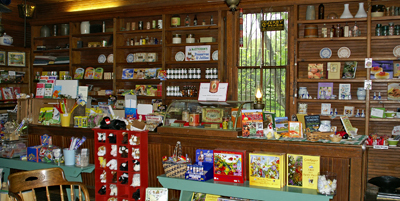 The Colvin Run General Store originally stood opposite the mill, across Colvin Run Road, where it served local residents from about 1890 to the mid-1940s. Inside, you will find the tall wooden shelves and long counter that were in the store when it was moved. Shelves display old-fashioned candy and cold drinks, whole wheat flour and cornmeal ground at the mill, books, toys and souvenirs.
Country folk did their everyday shopping at general stores like this one, where they bought everything from galoshes to gingham. They purchased rope, nails, and roofing, farm supplies like plow shares and clover seeds, and basic groceries such as sugar, salt, oil, bread, yeast and tea. Occasionally they would splurge on exotic items like lemons and cloves.
In its early years, the general store also was the local post office where people picked up their mail. It was a center of community life, a place for neighbors to meet, exchange news and swap stories. As one local woman put it, about twice a week her husband would "have to go up to the store and stay awhile."
In the early 1970s, the Fairfax County Park Authority acquired the old store building and moved it to its present location, where it serves Colvin Run Mill Historic Site's visitors. Rocking chairs on the front porch continue to invite visitors to stay awhile.
Stone-ground products available in the General Store
Whole wheat flour $5 / 2 lbs.
White and yellow cornmeal $4 / 2 lbs.
White and yellow grits $5 / 2 lbs
Limited runs of specialty products may be available seasonally