An elegant 9,400 square foot clubhouse is the site's centerpiece. The clubhouse contains an expanded pro shop, and meeting and dining facilities that allow us to serve tournament and outing groups. The Clubhouse design features materials and architectural details that celebrate the rich heritage of the former DC Department of Corrections Facility. Warm interior design details evoke a club atmosphere. Key features of the clubhouse include:
A banquet room capable of handling groups of 144, suitable for hosting full shotgun start tournament outings.

A private dining/small group conference room ideal for hosting small business meetings and private parties.

A full-service kitchen capable of supporting large catered events.

Changing areas adjacent to the men's and women's rest rooms allowing for a quick switch from business to golf attire.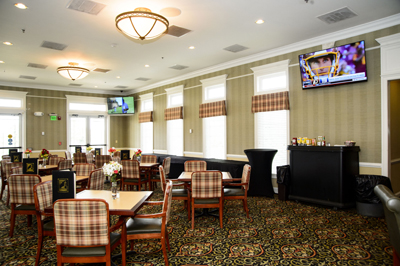 Whether it's before or after you hit the links or you are looking for a new local restaurant, The Tower Grill offers breakfast, lunch and dinner prepared by head chef Edisson Rosales and team. The Grill includes a full-service bar as well as flat screen TVs for your viewing pleasure. Open to the public; on-site and off-site catering for events!
December - April: Tower Grill open 9:00 a.m. to 5:00 p.m.
Pro Shop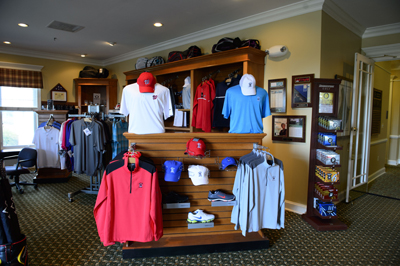 Laurel Hill Golf Club's fully stocked pro shop provides the latest up to date fashion and trends in the golf industry. From the finest in men's and women's golf apparel to top of the line golf equipment, our highly trained staff, along with our certified PGA professionals, will answer all your new product questions. In addition to offering you outstanding service, our qualified staff will also assist you with golf lesson information, club rental, custom club fitting and special ordering, just to name a few.
Our pro shop offers an array of brand name products such as golf balls, gloves, golf accessories, and many more unique gift items perfect for souvenirs and golf outings. If you are looking for corporate or tee gifts, we will gladly customize any of our merchandise with any company logo.
RATINGS
| Men | Course/Slope |
| --- | --- |
| Black | 74.6 / 145 |
| Blue | 73.3 / 142 |
| White | 71.7 / 139 |
| Gold | 70.1 / 133 |
| Red | 67.6 / 118 |
| Women | Course/Slope |
| --- | --- |
| Back | 74.6 / 145 |
| Middle | 73.3 / 142 |
| Forward | 71.7 / 139 |
| Gold | 75.7 / 140 |
| Red | 70.1 / 129 |
Laurel Hill Golf Club Rules
For the pleasure and safety of all our visitors, please be advised of Laurel Hill Golf Club's rules and policies.