Burke Lake Fitness Trails are the Best!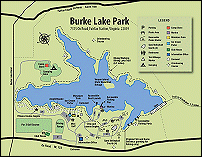 Across America, the word is out - Burke Lake Park boasts one of the 10 best fitness trails in the nation. That's the assessment of the American Hiking Society, after its trail specialists hiked high and low to find top 10 candidates in or near a major metropolitan area (close enough to use before or after work or on lunch hours) with portions that can be completed in 60-90 minutes.
Just 25 minutes from Washington, D.C., the Burke Lake Loop Trail follows the shoreline 4.7 miles around the lake, with bays jutting out from the main body of water that provide a welcome sense of solitude. Gravel surfaced for most of its length, Burke Lake's loop trail is "a fine choice for either a brisk walk or a run," plus it's also suitable for biking.