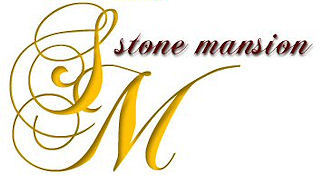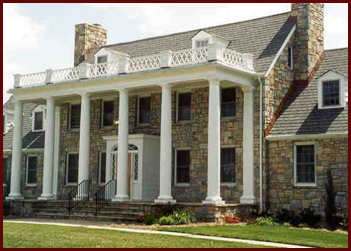 3900 Stoneybrooke Drive
Alexandria, Virginia 22306
In 1780 Walter Brooke, a commodore of the Revolutionary War Navy of Virginia, friend of George Washington, and first cousin to George Mason, built a house just off the Kings Highway which he called "Retirement." That house is now known as Stone Mansion. A major renovation in the 1940s enlarged and modernized the house, added two wings, a stone facade, and an elegant two-story colonnaded front porch.
Today, the house sits in a 14-acre park and offers two separate rooms, a large formal entry hall with a quarter circular stair, screened porch, and is situated on an expansive lawn.
Capacity:
Indoor Banquet: 50
Indoor Cocktail-Style Reception: 90
Indoor and Outdoor (with tent): 150
View Floor Plan
View Site Map
Rental Rates:
Base Fee (4-hours): $600
Extra Hours: $150/hour
Alcohol Beverage Use Fee: $200
Security Deposit: $300
The rental time is to include setup and cleanup time, as well as the function. The security deposit is refunded after the rental, provided there were no damages or contractual violations.
Available Equipment:
5 four-foot round tables
2 3 ½-foot round tables
6 six-foot rectangular tables
2 five-foot rectangular tables
50 off-white folding chairs
Amenities:
Hardwood floors
Warming kitchen
Central heat and air conditioning
Ceiling fans in gathering rooms
Picnic Shelter
Accessibility:
The Stone Mansion is wheelchair accessible.
Contact us for specific date availability or to schedule an appointment to view the property!
Stone Mansion History
The building known today as the Stone Mansion began life circa 1780 as a wood-frame manor home for the 400-acre plantation belonging to Revolutionary War naval officer, Commodore Walter Brooke. Commodore Brooke was the grandson of George Mason II and married a great-granddaughter of the same Mason family. There is oral tradition that when Walter was eight years old, he went to sea as a cabin boy and later as a midshipman in the British Navy. Later in life, he served as master of the merchant ship Martha. He commanded this ship from Belle Haven, which today is a section of Alexandria. In 1772, George Washington was ordering goods for Mount Vernon from London. Brooke traveled to London, selected the goods and brought them back on the Martha. Washington was to remain a friend and the Commodore was a frequent guest at Mount Vernon.
During the Revolutionary War, Brooke was charged by the then Governor, Patrick Henry, to defend the Eastern Shore. Brooke served aboard the sloop, Liberty, in the Virginia Naval Forces until he was forced to retire due to gout. He then moved to his new home, naming it "Retirement."
For the next 165 years, the building remained much the same as it had been built: a simple two-story four square with end chimneys. After passing through several owners, the property ceased to be farmed and was bought by Senator Robert LaFollette, Jr. to be his home while serving in Congress. Due to political developments, the LaFollettes never lived in the home and in 1938 it was sold to Benjamin Cohen, a noted Alexandria jeweler.
Cohen proposed to raze the building, but due to wartime building material shortages this was not allowed. He then proposed to "restore" the structure. By 1945, Cohen had made significant changes to the building. Interior walls were torn down and rooms reconfigured. Two wings, a columned portico and stone facing were added. The original structure in its entirety was surrounded by the new construction. Today, all that can be seen of Commodore Brooke's home are the original basement walls and cooking ovens.
The Stone Mansion is listed on the Fairfax County Inventory of Historic Sites and with the Virginia Department of Historic Resources.
3900 Stoneybrooke Drive
Alexandria, , 22306