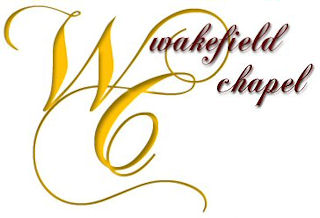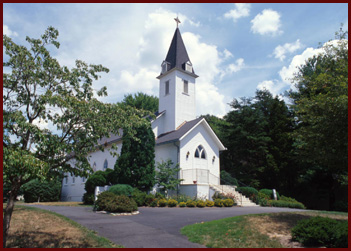 8415 Toll House Road
Annandale, Virginia 22003
Wakefield Chapel was built in 1899 on land donated by local sawmill owner, Oliver Besley. The chapel was named for its first local preacher, the Reverend E. W. Wakefield, a colorful figure in Virginia Methodism and a Union Officer during the Civil War. The building served as a community church until 1951, and was later turned over to the Park Authority to be preserved for future generations.
A country Gothic structure with white clapboard siding and arched windows, Wakefield Chapel is a quaint setting for weddings or other services and ceremonies. It features original pews, two stained-glass windows and a beautifully restored pulpit. The chapel may be rented separately or in conjunction with one of our timeless reception sites.
Capacity:
Guest seating: 92
Total occupancy: 99
View Floor Plan
Rental Rates:
Base Fee (3-hours): $400
Extra Hours: $140/hour
Security Deposit: $300
Rent the Chapel for your wedding ceremony and another of our properties for the reception and receive 10% off your base rental and extra hour fees.
The rental time is to include setup and cleanup time, as well as the function. The security deposit is refunded after the rental, provided there were no damages or contractual violations.
Available Equipment:
Original pews
2 white wood flower stands
2 dark wood flower stands
1 unity candle table (linens available for an additional fee)
1 carved oak lectern (original pulpit)
3 wood lecterns
Amenities:
Wall-to-wall carpeting on sanctuary level
Linoleum flooring on basement level
Bridal changing room
Central heat and air conditioning
Accessibility:
The Wakefield Chapel is not wheelchair accessible.
Contact us for specific date availability or to schedule an appointment to view the property!
Wakefield Chapel History
At the end of the Civil War, Oliver G. and Mary Besley were living near Kenmore adjacent to the Ash Grove estate in Tysons Corner. Desiring a larger, more forested piece of land, Besley purchased a tract that included the future Wakefield Chapel parcel. In 1888, he moved his sawmill operations to the newly acquired property and began clearing to build a house. By 1892 he had moved his family into a two-story white house that stood just west of the present Chapel Square Playground.
One of the first things Mary did after she moved to her new home was to search for a church to join. Although there were no formal churches in the area, she found an appealing Methodist Bible study group. The group held their meetings in members' homes under the leadership of Rev. Elhanan W. Wakefield. Rev. Wakefield was from the hill country of southeastern Ohio. He had served in the 2nd Massachusetts Cavalry and had been wounded and left for dead at Tom's Brook, Virginia. After the Civil War, Wakefield settled in the capital area and was noted for his evangelism and colorful personality.
In 1897, Oliver Besley donated land for the building of this country Gothic chapel, which Wakefield designed and helped to build. The deed of trust (Wakefield was one of the original three trustees) required the chapel be available to the Methodist Church for services only two Sundays a month and other groups were to be allowed to use it the other two Sundays. The chapel was officially named the Ilda Chapel, but came to be called Wakefield after its first minister.
From 1951, the Methodist congregation at the chapel consolidated with the Methodist Church on Columbia Pike and with the exception for a brief attempt by the an Anglican congregation to meet in the space, the chapel stood empty until the Fairfax County Park Authority assumed trusteeship in 1975.
8415 Toll House Road
Annandale, VA, 22003