Green Spring Gardens offers private scout programs.
Scouts can explore and learn in the park's Horticulture Center, Historic House, Glasshouse, gardens and native woodland habitat.
Please call 703-642-5173 for information.
Base Price for Scout Programs
(Does not apply to merit badges)
The base price for scout programs is $3 per person for each half-hour of a program.
There may be additional fees for supplies or tours.
0.5 hours = $3 / person
1  hour  =  $6 / person
1.5 hours = $9 / person
2  hours  =  $12 / person
Merit badge fees are listed on each badge's registration page.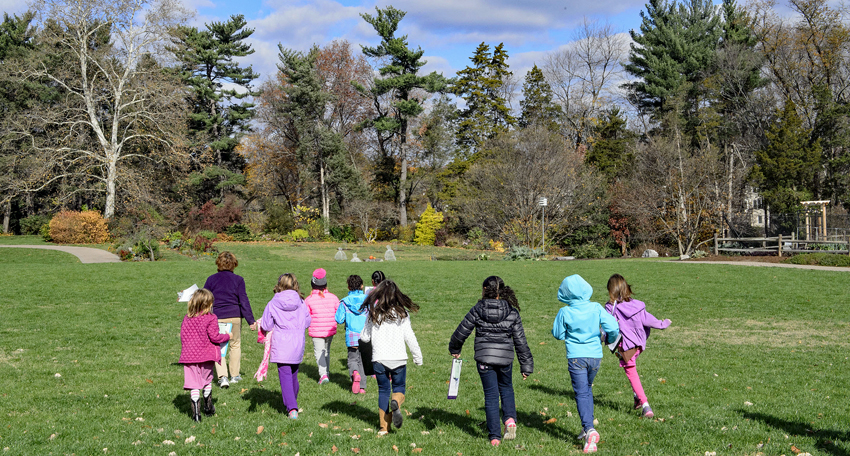 GIRL SCOUTS
Daisy
Length: 1.5 hours
Requirements Covered:  All except the Take Action project
Length: 1.5 hours
Requirements Covered:  All except the Take Action project
Length: 1 hour
Requirements Covered:  All
Brownies
Length: 2 hours
Requirements Covered:  All
Length: 2 hours
Requirements Covered:  All
Length: 1 hour
Requirements Covered:  All
Length: 2 hours
Requirements Covered:  All except Take Action project
Juniors
Length: 1 hour
Requirements Covered:  All
Length: 2 hours
Requirements Covered:  All
Length: 2 hours
Requirements Covered:  All
Length: 2 hours
Requirements Covered:  All
Cadettes
Length: 2 hours
Requirements Covered:  All
Length: 2 hours
Requirements Covered:  All
BOY SCOUTS
Tigers
Length: 1 hour
Requirements Covered:  All
Wolf
Length: 1 hour  (1.5 hours in fall)
Requirements Covered:  All